Hometown Gift & Decor is a specially curated boutique where you will find high-quality home décor, modern baby clothing, hand-crafted jewelry, and thoughtful gifts that are as fun to give as they are to receive. Located on the corner of Main and Burnet Street, Hometown is direct across the street from the gorgeous Woodbine Mansion and around the corner from the new Round Rock public library.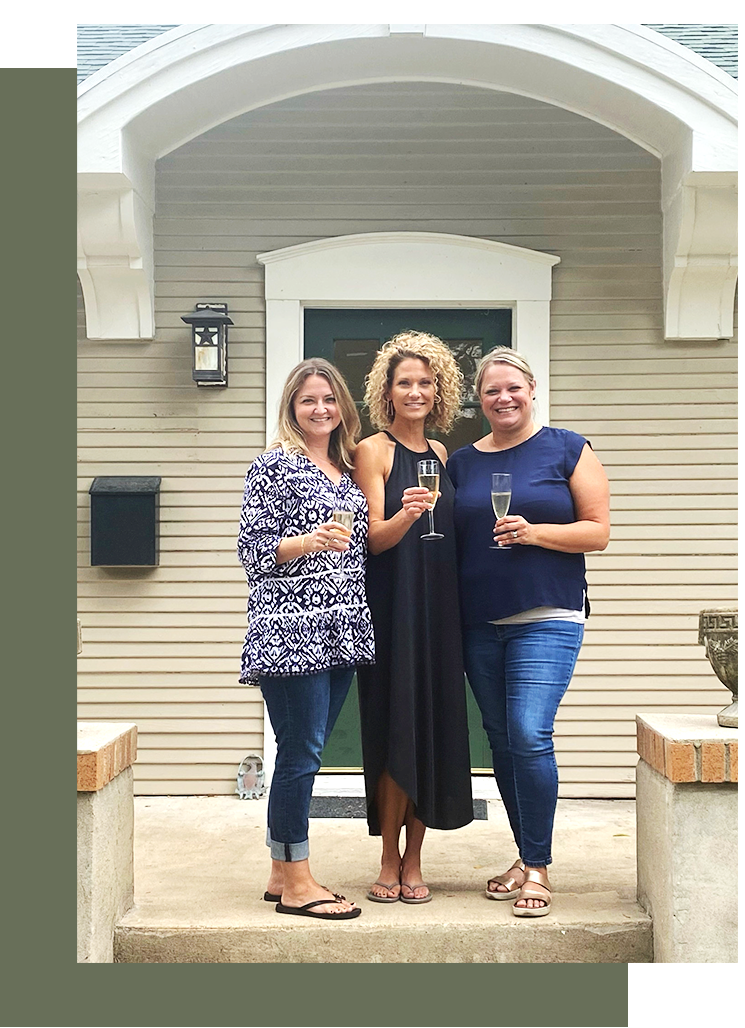 THE HISTORY
Hometown began with husband and wife, Freddy and Jessica Duarte, and an inspired business idea in 2020. This dream became a reality when a historical home, located at 400 East Main Street came on the market.  Built in 1927, once home to Round Rock's only physician, Dr. D.B. Gregg, this home exudes charm and nostalgia. Fast forward to the turn of the century, John Avery from the Avery Ranch family occupied the property, practicing law until 2021. Freddy and Jessica were blessed to have the opportunity to purchase this historical landmark. The Duarte family has called Round Rock their hometown since 1980 and watched it grow from a small town to a thriving city. In 2021, Jessica along with friends and fellow mompreneurs; Amber Markee and Celise Ketch, created Hometown Gift & Décor.
OUR MISSION

Our mission is to bring the "experience" back to shopping. Stepping into our newly renovated home, boasting antique longleaf pine floors and original shiplap walls, you will be greeted with a warm welcome and offered a complimentary beverage. Being a boutique store, we carry a select number of items, carefully chosen in limited quantities. From your baby's outfit to your home decor, our intent is to offer original and unique finds. It's our goal to provide you with a fun shopping experience in a fresh and comfortable environment. We offer ready-to-go gifts for those last-minute occasions.
​
Meet the team
Jessica

Round Rock is my home. My story didn't start here though. Born an 80's baby in Tennessee, my loving parents made the move to Plano, Texas when I was two years old. My brother and I grew up in the same house from toddlers to graduation caps, filled with lemonade stands as children to CD walkmans and 90's grunge as teens. Fast forward to 2005… I marry my dream husband, start a family and blink… Duarte party of six!...

Mason, our oldest son works for Dad in the mortgage business. Parker is our studious, football player with a heart of gold. Celia, the only girl of the bunch, loves dance and is our free-spirited social butterfly. Boone, the baby of this clan, is strong willed, funny and keeps all of us on our toes. Freddy, my rock, is my motivator and the person that encouraged this idea of mine to speak itself into reality. My family, they are my world and define so much of what brings me joy… our HOME.

This idea was born with one main goal in mind to serve our community, by providing an edited collection of unique home finds, gifts to express any sentiment and the best baby items on the market. We open our doors to you, our neighbors and friends, and hope you see the treasure that 400 Main Street is to us, in this town we love, Round Rock, Texas!

AMBER

Hi, I'm Amber! A resident of Round Rock for 10 years after living in Seattle for 30 plus years. We moved to Texas for the sunshine! Raising my four children with my husband, Shawn, my life is full! Our oldest son is a therapist and works with children with autism. Our oldest daughter attends Texas State and is studying marketing. Our "little" two, are in high school and middle school. Our high schooler is a dedicated big brother and loves... baseball. Our youngest is a Type 1 diabetic and is amazingly strong. I'm very proud of all of them!

Home is what I'm all about! Home offers so much of everything I value. Comfort, warmth, security and most importantly, love. Bringing that sense of warmth and appreciation to Hometown customers is my main focus. Creating a relaxed, comfortable environment, allowing for genuine enjoyment while in our shop is my goal for you!

Knowing you are always welcome and appreciated is what I strive for.

Welcome to Hometown!

CELISE

Hi! My name is Celise Ketch and I am co-owner of Hometown Gift & Decor. I grew up in sunny Southern California most of my life and have lived in Texas for nearly 17 years. I have been happily married to my husband, Robbie, for 19 years and together we have a 12 year old son, Brody. Brody is the joy of our lives and enjoys playing basketball and bike riding. We have loved living in Round Rock... for over 11 years and getting to watch it grow from a small town to the bustling city it is today has been truly inspiring!

I am thrilled to be part of this exciting time in our town and love being able to bring a unique retail experience to Main Street!